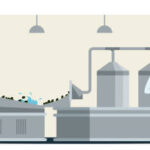 Manufacturing / Compounder Associate
Location:  Melbourne, FL
Rate: $16.50 Hourly
Shift: Mon – Fri – Day shift primarily
Length: Temp-To-Perm
Long-established manufacturer in Melbourne looking for a manufacturing associate with some compounder experience that has the ability to be trained in other facets of the production process as well.  This person would primarily be a manufacturing associate but will be trained on other duties to cover other aspects of the facility.  While main shift will be day shift, shift coverage could be day shift or evening shifts (Day shift 8am – 5pm) and (Evening shift 3pm – Midnight).
ESSENTIAL DUTIES/RESPONSIBILITIES/FUNCTIONS:
Prepare and fill orders
Produce products by combining and mixing the ingredients per formula and written procedures.
Properly operate processing equipment (i.e., pumps, tanks, mixers, etc.)
Draw samples of each batch for lab tests
Ensure proper reporting and records are completed
Clean manufacturing equipment, floors, walls, ceiling, etc per maintenance schedule.
Understand the full process of the Manufacturing/Compounding Department.
Perform periodic inventory cycle counts.
Unload trucks as required
Ability to work with a respirator regularly
Minor repairs to the facilities and equipment such as changing air conditioning filters and cleaning pipes.
Work in other areas of the Operations department and Company as needed
All other duties as assigned.
SKILLS REQUIRED:
Maintain regular and punctual attendance at work.
Ability to use scales and record accurate readings.
Knowledge of safe forklift operation or able to be trained to drive a forklift safely.
Ability to read and write English to read and follow formulas, procedures and equipment instructions.
Good math skills to problem solve compounding formulas
Proficient in MS Office suite to include Word and Excel
Good mechanical ability and knowledge.
Problem solving skills to identify and fix incorrectly formulated batches.
Manage multiple tasks at one time.
PHYSICAL REQUIREMENTS TO PERFORM JOB DUTIES:
Able to lift up to 50 pounds on a regular basis without assistance.
Must be able to wear a respirator on a regular basis
Stand/remain upright for periods of up to 4 hours at a time.
Bend, squat, kneel, balance, turn, and stoop.
Reach forward and overhead.
Good eye/hand coordination.
Able to climb ladders.
Ability to use controls to operate and drive forklift.
EDUCATION AND/OR EXPERIENCE REQUIRED TO PERFORM JOB DUTIES:
High school education or GED equivalent.
One year of work experience in a manufacturing environment preferred.
One year of work experience in compounding preferred.
We are a No Fee staffing agency.  Southeast Staffing is a Drug-Free Workplace / EEOC.  All applicants are subject to a background check.  Public transportation not accessible to this location, must have access to vehicle/vehicle.